A Got What It Cakes first…top-secret cakery recipes, included in this post, for the first time ever!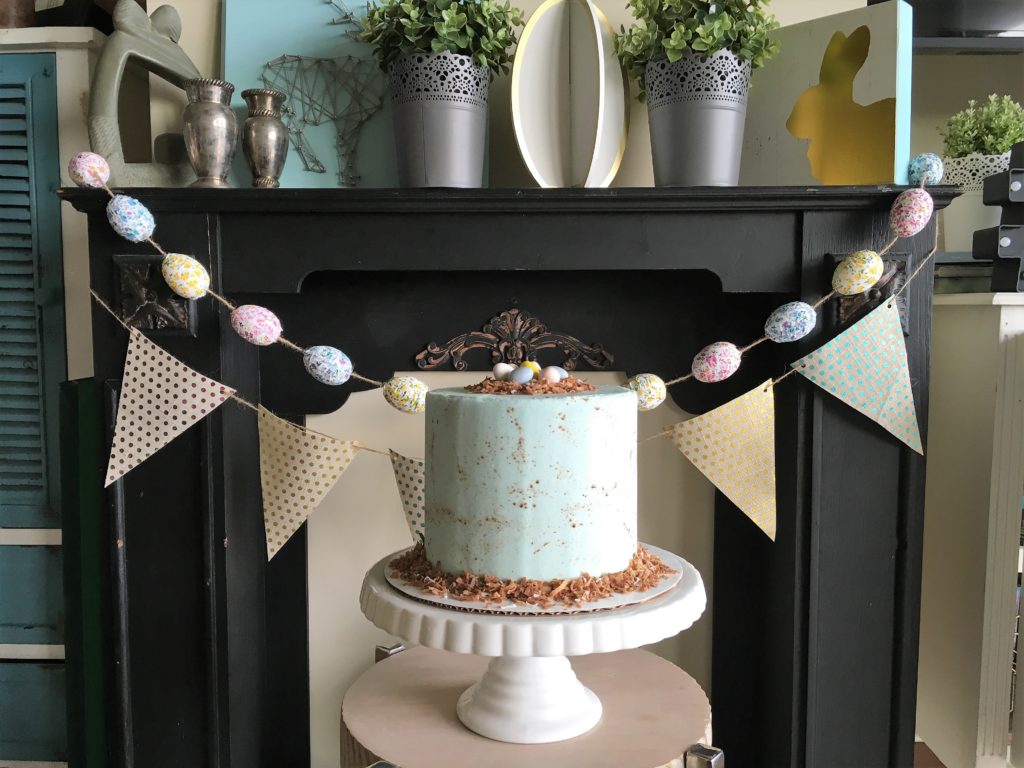 I owned a cake business for almost ten years, and closed it up about a year ago. It was one of the hardest (and easiest) decisions of my life. That blog post is for another day though! Today, I'm doing something I never did in those ten years…sharing some of Got what it Cakes' recipes!!! I figured it's time to give the people what they want, and apparently that's insider secrets, tips, tricks, and recipes 😉
I know, I know. Yall actually just want me to reopen the cakery, but that's not gonna happen. #sorrynotsorry 😉
But sharing a recipe is waaaaaaaaaaay out of my comfort zone, let alone THREE, so let's just celebrate the small victories, mkay? And when I had the cakery, we always offered carrot cake for Easter, because bunnies, obvi, so that's the cake recipe I'm sharing!!! And we always paired it with our cream cheese filling, and buttercream icing, and you're getting those recipes too!
It's like Christmas, err, Easter!!!
So let's start with the carrot cake, shall we?! First, let me say this…baking is a science. It's very precise. Use measuring cups for dry ingredients. Use a liquid measuring cup (hint: it's usually the glass kind) for wet ingredients. Have eggs and butter ready to go at room temperature! Preheat your oven to the correct temp, and use a calibrator if you aren't sure if your oven is heating correctly. Also, cake pans do make all the difference, and you want them to have straight edges. You can get Wilton ones at a hobby store, and they'll work just fine! Get a turntable or lazy susan (IKEA sells them for $4 no joke), an offset spatula, and a bench scraper. Now that we've covered the basics…on to the hard work!
Carrot Cake Ingredients:
3 1/2 cups all purpose flour
1 1/2 tsp ground cinnamon
2 tsp baking soda
1 tsp baking powder
1/2 tsp salt
4 eggs
1 1/2 cups sugar
1/2 cup packed light brown sugar
1/2 cup orange juice
1 cup sour cream
1 1/4 cups vegetable oil
1 tsp vanilla extract
3 cups grated carrots
Method:
Preheat the oven to 325 degrees and prepare cake pans with pan spray (or cake release)
In a mixing bowl, combine flour, cinnamon, baking soda and powder, and salt with a whisk.
In the bowl of a stand mixer fitted with a paddle attachment, mix eggs, sugar, OJ, sour cream, oil and extract. Scrape the side and bottom of the bowl.
Gradually add in the dry ingredients and mix until combined. Again, scrape the side and bottom of the bowl.
Fold in grated carrots. (Use a food processor to grate the carrots and save yourself time and energy!)
Pour a third of the batter (a little over 2 cups) in each 6 inch pan and bake until a toothpick comes out clean. Every oven is different, so check every five minutes after 30 minutes, but don't be alarmed if it takes a while to bake…carrot cake is very dense!
While they bake, can we take a minute to discuss terminology?!
Typical bakery phone conversation:
Customer: "I need a three tier cake for a birthday today!"
Me: "How many people do you need to feed?"
Customer: "Just a small family gathering, so maybe 8-10 people."
Me: "Oh, you mean a three layer cake?!"
Customer: "Yes. That's what I said."
Me: "You said three tier, and that's why I asked how many people, because our smallest three tier cake feeds 53 people, and we can't do it with such little notice. But we can do a one tier cake no problem for same day!"
Customer: "Well yeah, I don't want a single layer. I want it to be taller."
Me: "Right. Our one tier cakes are three layers of cake and two layers of filling."
Customer: "Okay, that's what I need then."
Now have that conversation 387432204754 times a day 🙂
To recap, each cake TIER is made up of LAYERS of cake and filling. Some bakeries do two LAYERS of cake with one filling in between. Other bakeries do four LAYERS of cake and three layers of filling. We did three LAYERS of cake with two layers of filling, simply because I like that ratio best, and it was my cakery 🙂 The Easter cake in this post is a single TIER.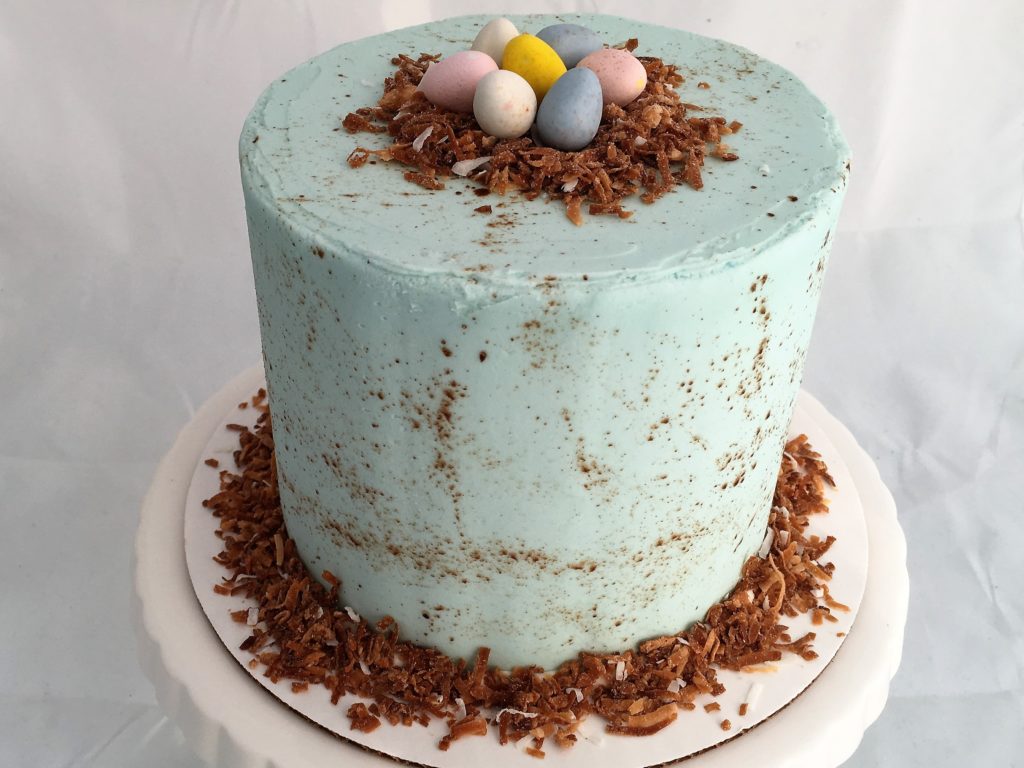 A multi-TIERED cake is when we have more than one tier of cake, and they typically graduate in size. This is a three-TIERED cake…see, three levels essentially. Shall we do some math?! If each tier has three layers of cake, then how many layers of cake are there?! If you said NINE, you win!!!
(You win nothing actually, but I'm appreciative you finally understand me, and that's a win for every caker in the world)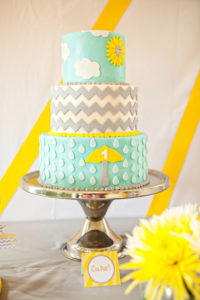 I need to stay focused! While the layers are baking, make the cream cheese filling and buttercream!
Cream Cheese filling:
8oz block of softened cream cheese
small jar of marshmallow fluff (around 7oz depending on brand)
1/2 tsp vanilla extract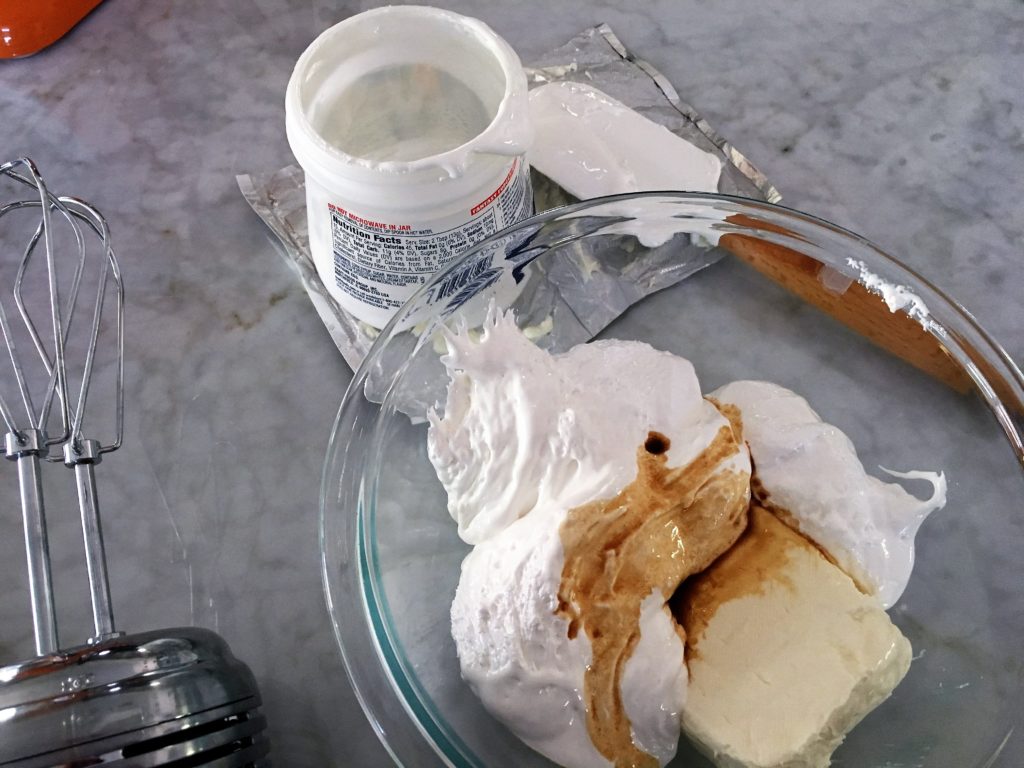 Mix all together until completely smooth. It's vital that the cream cheese is SOFT, or you will have chunks. Use any leftover filling for fruit dip…the BEST!
Onto the buttercream! I always used American buttercream for my cakes, not because I love it…the truth is, I don't like icing at all…except rainbow chip 😉 Shhhhh, don't tell anyone. But I used American buttercream because it crusted, I was able to get it super smooth, and because it held up to warmer weather, like we have in the South. Only four people know this recipe, and I would bet only Kelley (my head baker) remembers it by heart! So the fact that I'm putting it out there for everyone to see, is MAJ.
Buttercream:
2 sticks of softened unsalted butter
1 cup of shortening
1/2 tablespoon clear vanilla extract
1/4 teaspoon almond extract
pinch of salt
2 lbs powdered sugar
3 tablespoons milk
In the bowl of an electric mixer fitted with a paddle attachment, beat butter and shortening on high speed until completely combined. Add extracts and pinch of salt. Beat again. Gradually add powdered sugar, and milk in stages until you like the consistency. Then beat on medium/high speed until light and fluffy! The whole process should take about ten minutes (obvi, sped up below). Here's a video to help guide you:
Back to the baked cakes! Let them cool in the pans for 20-30 minutes, and then flip them out, cut off the tops so they're level, and wrap them in saran wrap.
The trick is to wrap them when they're still warm, and that way when you put them in the freezer, the condensation is trapped in the cake layers. YES, I said freezer!!! Let's dispel this rumor real quick that freezing cakes dries them out. It's simply NOT TRUE. 1. Dry cakes are dry no matter what you do with them. The recipe sucks, or you baked it too long. Don't blame the freezer. 2. Microbiology proves that steam helps keep moisture in things. 3. This is why food commercials say "flash frozen to lock in moisture/freshness." 4. I promise I know what I'm talking about.
You can let them freeze for as long as you want, but I'd suggest at least 4 hours. If you're going to keep them in there for a few days, also wrap them in aluminum foil, on top of the saran wrap.
Freezing will not only trap in the moisture, but they will be easier to fill and ice the layers! Here's the video on how to do that:
Notice in the video I said "crumb coated" the cake. Can we agree to stop saying "dirty ice?" like Buddy the Cake Boss says?! Crumb coating is exactly what it says…coating the crumb. Nothing "dirty" about it. Kthanks. Put your crumb coated cake in the fridge for 20-30 minutes and then it's time to ice it!!! Here's the video on how to do that:
To make the buttercream that robin's egg blue color, add a tiny bit of royal blue food gel, or a few drops of blue food dye will do the trick too! Less is more here! Once you've iced the cake, put it back in the fridge, and prep the "splatter" mixture of 1/4 cup of water and 1 tablespoon of cocoa powder. Whisk it together until there aren't any lumps! i learned that concoction from I am Baker. Check out the video to see how to splatter!
Once you've finished splattering the cake, put toasted coconut (350 degrees for 10ish minutes) around the bottom edge of the cake (use a bit of icing to help it stick), and then a nest of coconut on top. Place some mini cadbury eggs in the nest, and voila!!!
The sweetest Easter cake you ever did see…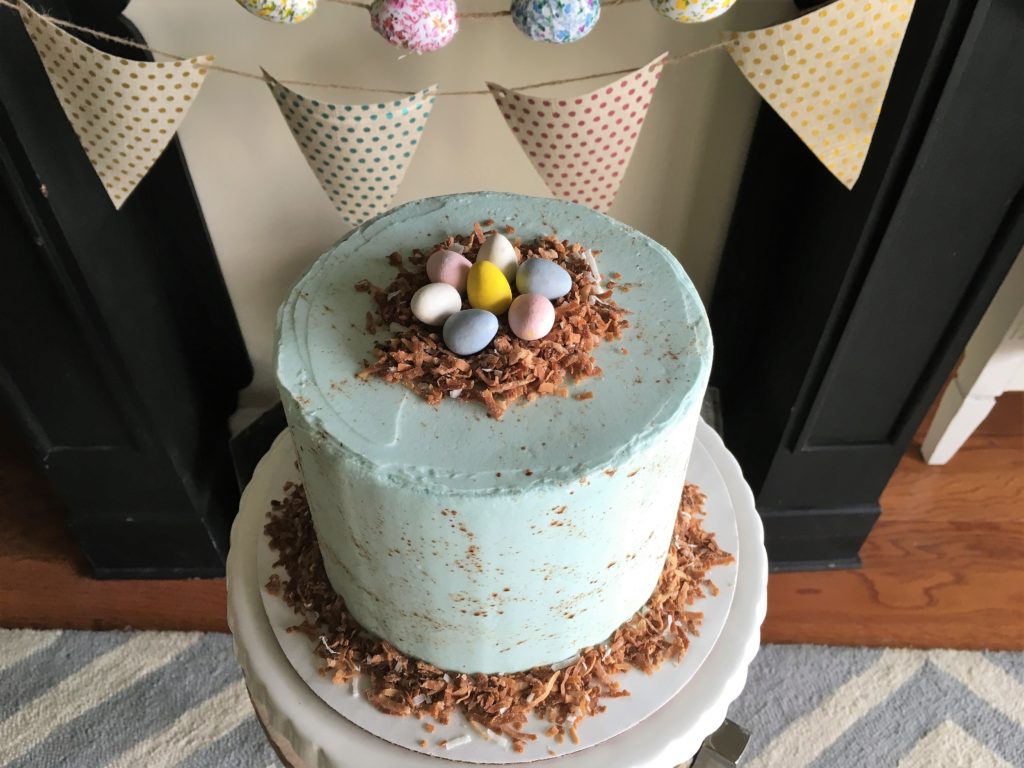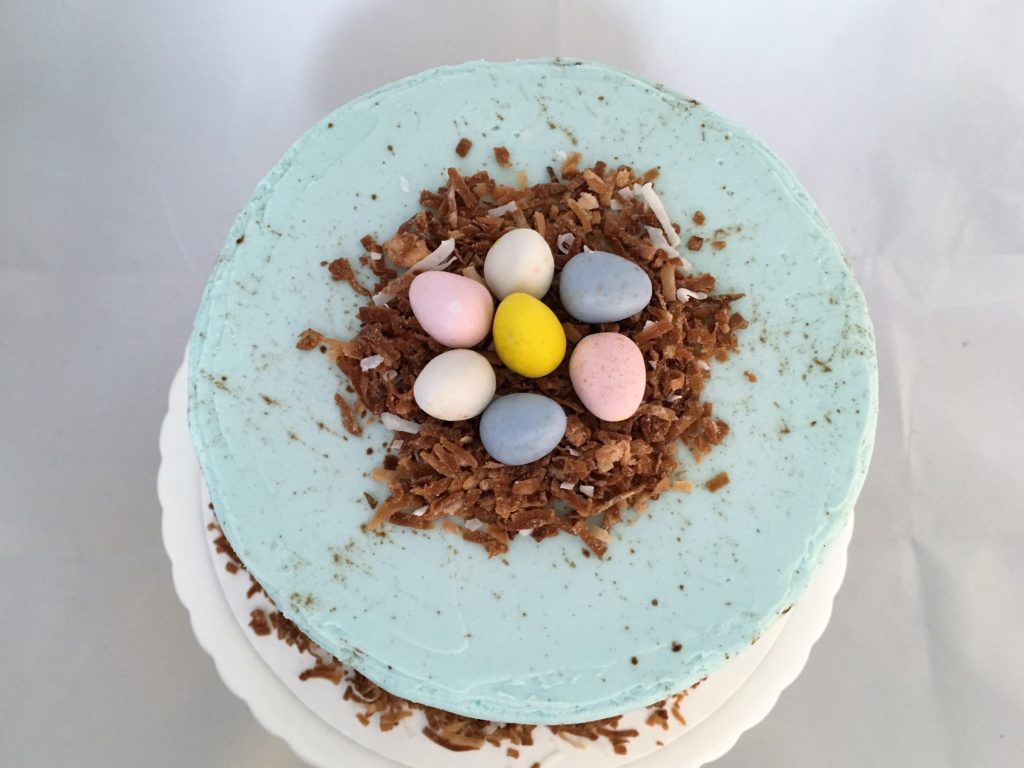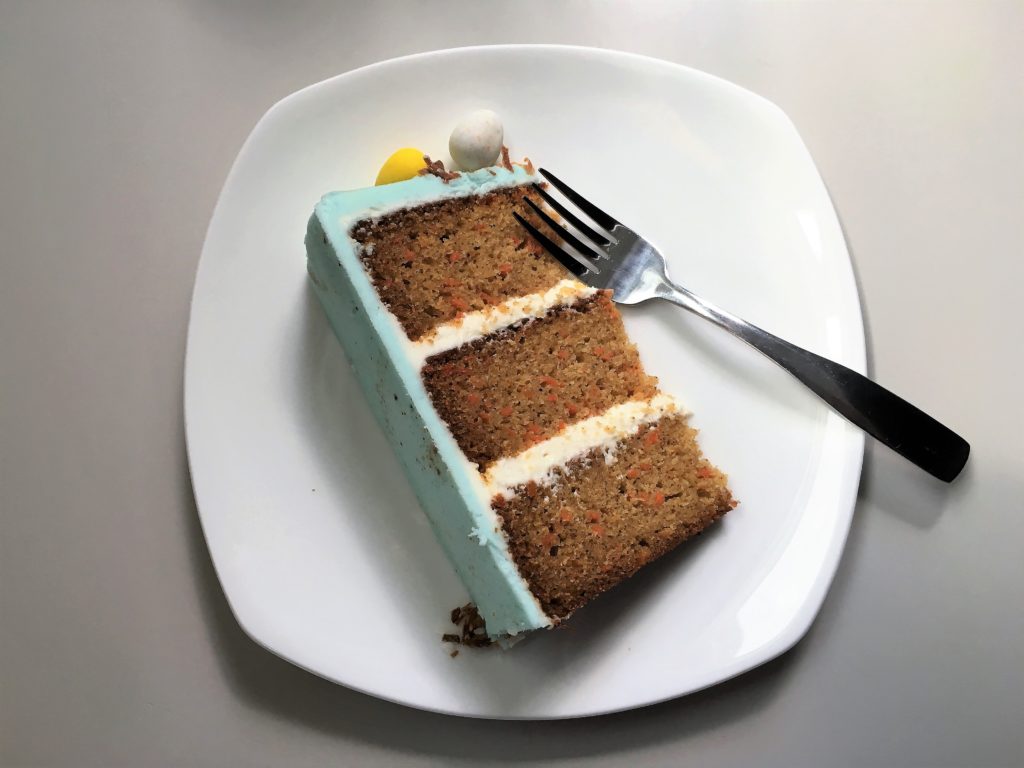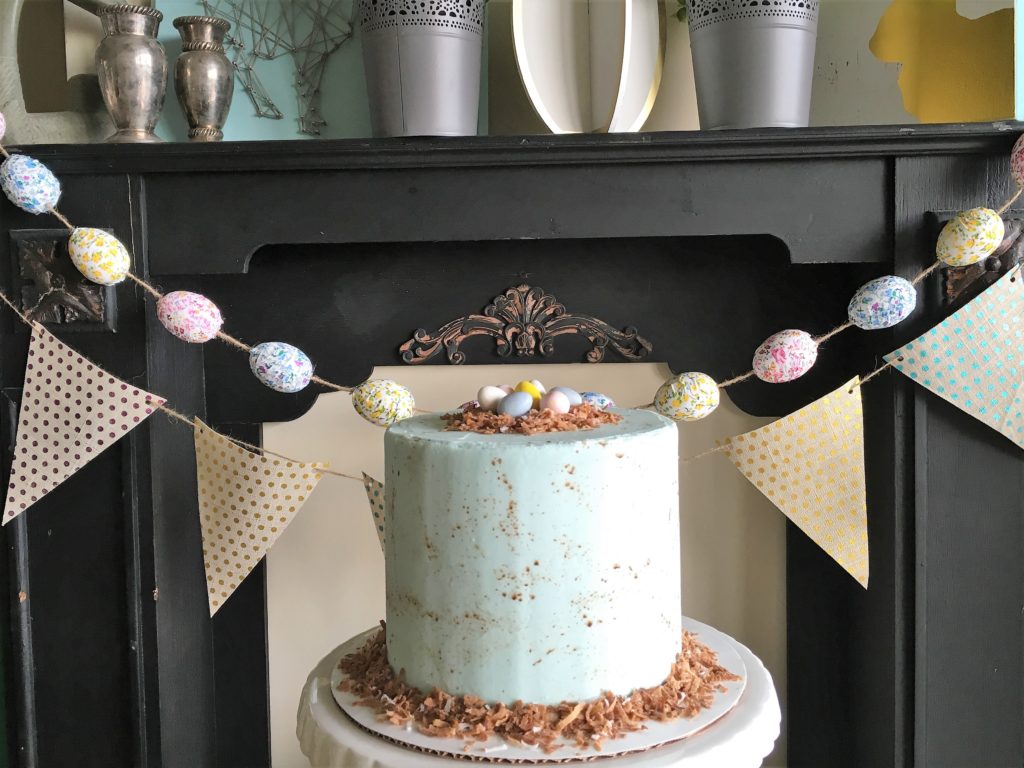 DON'T FORGET TO PIN THIS!!!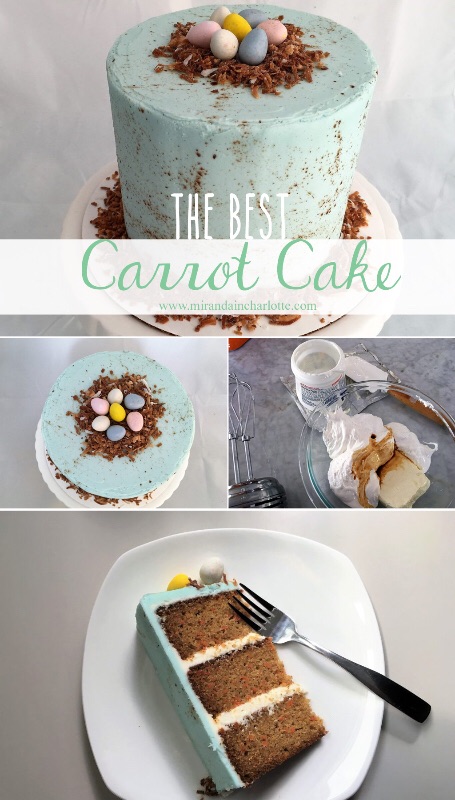 Check out the other Easter posts I did this week, HERE and HERE!
HAPPY EASTER EVERYONE!